The disinfection application of Acidic Electrolyzed Oxidizing Water in beer production enterprises
The modern beer industry is moving towards high-tech, and the cleaning and disinfection of production lines and products are essential in the production process. The effect will directly affect the quality of beer.
The use of potential oxidized water to clean and disinfect the production pipelines, storage tanks, and beer bottles of beer production enterprises is much better than the traditional CIP and caustic soda bottle washing processes. At the same time, it can also reduce the cost of cleaning and disinfection, shorten the time of cleaning and disinfection, improve production efficiency and reduce carbon dioxide emissions. This brand-new disinfectant and cleaning and disinfection process can be matched entirely without changing the existing production equipment of the enterprise. It is a brand-new idea for beer production enterprises to explore "cost reduction, energy-saving, and emission reduction."
Most beer production enterprises adopt the CIP method for disinfection and use hot water, strong acid, and alkaline solid chemical solutions to clean and sterilize pipes and containers. In CIP disinfection, the nitric acid solution is mainly used for acidic chemicals. Still, the nitric acid solution is a toxic substance, and the storage and use of harmful substances by food enterprises bring hidden dangers to food safety and employee safety. Disinfection with strong alkali CIP is often half the result with half the effort, and the cleaning and disinfection effect is poor. The washing surface is prone to water streaks and sodium hydroxide residues, which affect the appearance of the beer and change the taste of beer more efficiently. The discharge of strong alkaline sewage will also increase sewage. Processing costs increased energy consumption.
1 minute sterilization rate 99.99%+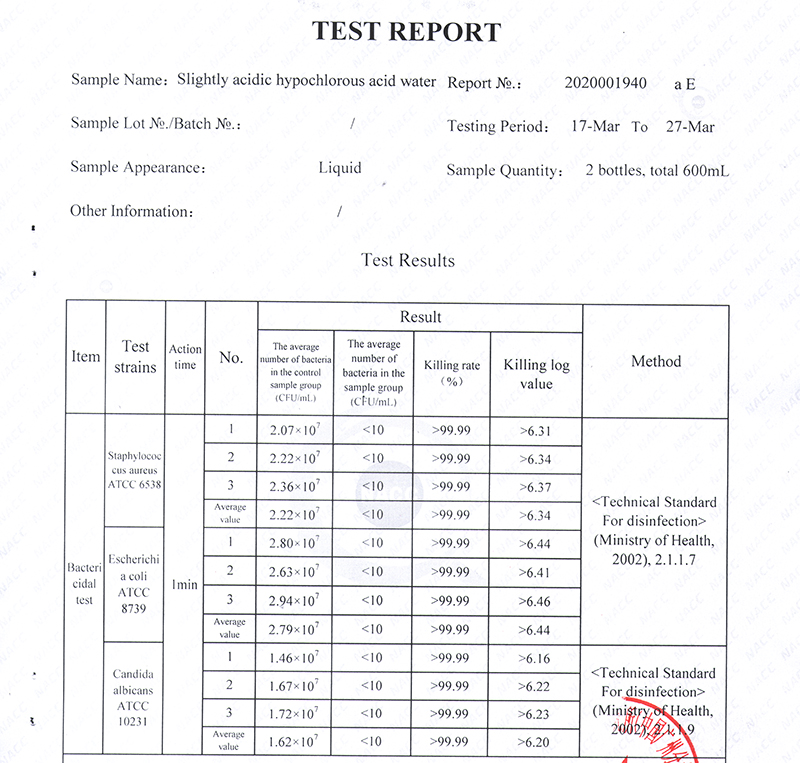 In recent years, with the research and development of Electrolyzed Oxidizing Water generators in China, people have seen a more efficient, non-toxic and harmless, no residue, no irritating odor, colorless, transparent, and environmentally friendly disinfectant - acid oxidation potential water. Its molecular group is small, its permeability is good, its cleaning and disinfection ability at room temperature is better than that of 80 ℃ hot alkalies, and its strong decontamination and disinfection ability. Applying acidic oxidation potential water to the CIP process introduces a new concept of "cold disinfection." It can be cleaned and sterilized at room temperature and achieve a complete sterilization effect without heat energy.
Features
High efficiency, can kill common pathogens within 30 seconds;
No toxic and side effects, even if it is drunk by mistake, it is harmless to the body;
No irritation to human skin;
Completely environmentally friendly and meet the requirements of cleaner production;
No heat source is needed, which significantly saves heat energy and reduces carbon emissions;
Low operating cost; shorten the disinfection time, only one-third of the original use time;
Improve factory production efficiency;
There is no need for equipment modification, easy to use, achieve zero-emission, and save a lot of pollution control costs.