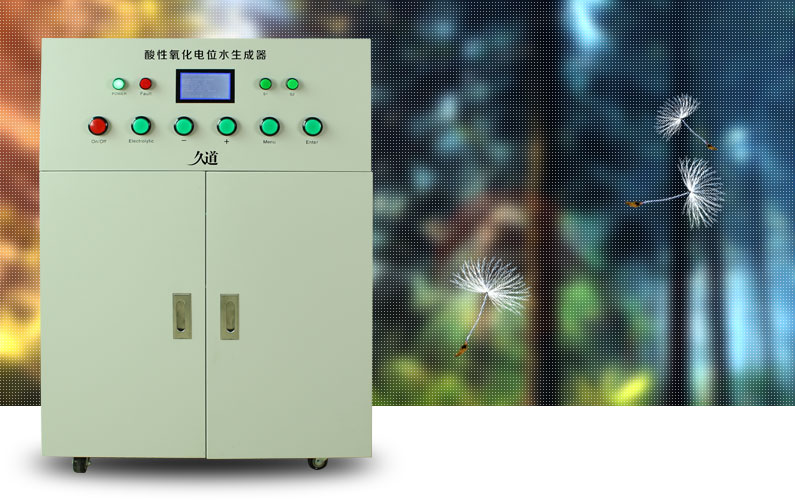 Name
Acid disinfection machine
Model
T31
Out put water PH
≤2.7(Adjustable)
Out put water ORP
≥1100mV
Out put water ORP
1000L/h
Power supply
220V/50Hz or 110V/60Hz
Rated power
3.0kW
Size
760mm*620mm*1080mm
Case material
304 Stainless steel
Out put flow rate
≥10000h
Electrode plate
material
Platinum--titanium alloy
(food grade)
Acid and alkaline
percentage
2:1-1:2 Range adjustable
Notice


Modularized design, can increase the output water flow rate up to 2000L/H

Product Features

1. With using platinum-titanium alloy plates, JEUDAO high-quality electrolytic cell has a strong electrolytic

ability and long service life

2. Professional design for a large electrolyzer, large electrolytic area, can ensure that 1-2 tons/hour of ionic

acid water out.

3. The acidic water pH is 2.7 or less oxidation potential, and it is ORP 1100 mv, chlorine available 25 ~ 50mg/L.

Which meet the ministry of health "disinfection technical specifications" (2002) requirements;

4. Sterilization has widely, efficient and fast characteristics;

5. Automatic cleaning system, reduce scale;

6. 1.2 mm thickness of 304 stainless steel shell, never rust;

7. According to customer demand customized.